Hello my lovely readers!
I hope you are having a lovely week, despite this bitter cold weather we are having!
I thought today I'd share a recipe with you. I take no claim in inventing the recipe (it's from the
Tesco Real Food website
) but I made it for tea this week, and the mister said that it tasted like Wagamamas! So it was a definite hit! And I think it will be a definite hit with you too, as it warms you through-and-through and tastes very luxurious (although it's a cinch to make!)
Click
here
for the recipe or read below:
Thai Red Chicken Curry: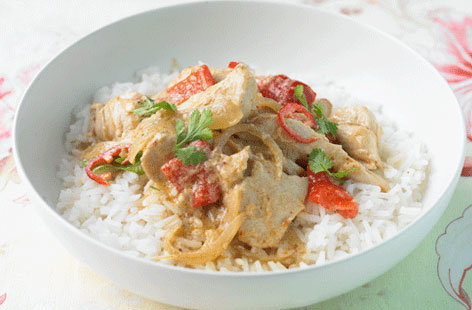 Ingredients
1tbsp vegetable oil
500g (1lb 2oz) skinless chicken breasts, cut into chunks
1 large onion, thinly sliced
2 garlic cloves, crushed
1 red pepper, deseeded and cut into chunks
1 stalk fresh lemon grass, bashed with a rolling pin
My local supermarket didn't have any, so I didn't use it! But my jar of Thai red curry paste contained lemon grass and coriander in it, so I think the flavours were still there!
2tsp fresh ginger, grated (or use ready-prepared)
400ml can reduced-fat coconut milk
1 chicken stock cube, dissolved in 150ml (¼ pint) hot water
2tbsp Thai red curry paste
1tbsp
fish sauce or
light soy sauce
2tbsp fresh coriander, chopped, plus extra to garnish
Method
Heat the oil in a wok or large frying pan and add the chicken. Cook the chicken until it's browned.
Add the onion and the garlic, and cook for a further two minutes.
Add the red pepper, ginger, coconut milk, chicken stock and red curry paste. Mix together.
Stir in the soy sauce.
Bring to the boil, then reduce the heat and simmer for 20-25 minutes.
Serve with rice or noodles!
Unfortunately, I didn't take any pictures of the end result as we were too busy tucking into our tea! However, I can verify that it looked exactly like the picture off the Tesco Real Food website!
I hope you enjoy making this dish, it's really easy to do!